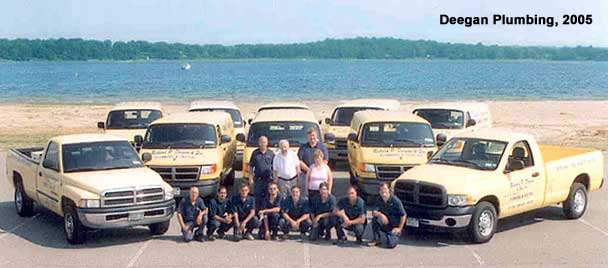 History
Richard P. Deegan & Son Inc was started in 1956 by Richard Deegan. The business offered plumbing and heating services in the areas of Locust Valley, Glen Cove, Sea Cliff and many of the other small towns on the North Shore of Nassau County. The business operated with three employees out of their Locust Valley office but expanded when Richardís son Paul joined the business in 1973. In the late 1970ís, Deegan Plumbing acquired Manhasset Plumbing thus expanding its customer base to the Manhasset and Great Neck areas. Richard Deegan was a past president and member of the Nassau County Board of Plumbing Examiners. Paul Deegan was the past president of the Nassau County Plumbing Heating Cooling Contractors Association (PHCC) as well as the past president of the New York State PHCC. Richard, his son Paul, and son-in-law Richard are all graduates of Mechanics Institute in Manhattan. Presently, the company has three locations and is operated by Richardís son-in-law Richard Scott and daughter Patricia.
Fifty-four years and three generations later, the business is proud to offer the same standards of service and integrity as Richard Deegan did his first day in business.
Licenses

Deegan Plumbing is a fully insured and licensed plumbing company. A member of Nassau Country, New York State and the National Association of Plumbing, Heating Cooling Contractors (PHCC). Licenses are held in the towns of Bayville, East Hills, Flower Hill, Garden City, Glen Cove, Great Neck, Great Neck South, Hempstead, Huntington, Kings Point, Manorhaven, Mineola, Munsey Park, North Hempstead, Old Westbury, Oyster Bay, Port Washington, Roslyn, Sands Point, Sea Cliff, Village of Lake Success, Westbury, and in Suffolk County.

Richard Scott, Patricia, and their son
Material

Some of the major brands we offer are American Standard, Kohler, Toto, Grohe, Delta, Moen, Franke, Burnham, Weil Mclain, AO Smith, Slant/Fin, Bosch, and Rheem. No matter what brand you choose, we have the resources to get the material for you.
No job is too big or small, call Deegan Plumbing for fast & reliable service.
Richard P. Deegan Plumbers are known for quality and trustworthy Long Island Plumbing work, specifically North Shore Plumbing work. If you need a Nassau Plumber, a Suffolk Plumber, or a North Shore Plumber, look no further than Deegan Plumbing. We specialize in boiler repair, backflow inspection, clogged drains, and radiant heat installations. We carry a full range of plumbing & heating supplies including Weil Mclain boilers, AO Smith water heaters, Kohler faucets, American Standard faucets, Grohe faucets, Delta faucets, & Moen faucets.
| | | |
| --- | --- | --- |
| LOCUST VALLEY | OYSTER BAY | MANHASSET |
| 298 Forest Avenue | 19 Spring Street | 8 Hillcrest Avenue |
| Locust Valley, NY 11560 | Oyster Bay, NY 11771 | Manhasset, NY 11030 |
| (516) 671-1122 | (516) 922-1122 | (516) 365-4433 |